THREE WAYS TO ROCK OUT W/ TOTAL CONTROL
No doubt, the Three Stage Rocket MIDI version is the Lamborghini of overdrives!
Besides being a luxury version of the original Three Stage Rocket – with soft touch switches, direct access to OD1/OD2, and light indication of pre/post boost/drive – you can now store and control the settings of its four switches via MIDI.
In comprehensive setups that utilize everything from modeling amps or effects, loop controller systems, delays/reverbs with MIDI control, computer controlled backing tracks etc., the Three Stage Rocket MIDI will follow along in most of these setups.
Whereas many modeling amps and effects very often misses a real analog, great sounding overdrive, the Three Stage Rocket gives you exactly that! Because in terms of sound, the Three Stage Rocket MIDI is just like the original – and beloved – Three Stage Rocket, offering a three-in-one TrueOverDrive solution with two drive settings plus a 15dB boost, and the opportunity to flip the order of the drive and the booster.
In other words, Three Stage Rocket MIDI is your perfect and programmable all-in-one drive for any guitar FX setup.
HOW TO PROGRAM TSR MIDI
The Three Stage Rocket MIDI is so intuitive to program that you won't even need a manual. You only have to remember three things:
1. Press and hold a foot switch down to send a MIDI program change This will store the settings of the switches at the incoming program change number.
2. Press and hold two foot switches simultaneously to send a MIDI program change. This will change the MIDI channel to the MIDI channel of the incoming message.
3. Press and hold three foot switches simultaneously for about 10 seconds (and ignore the clear visual warnings) to perform a factory reset.
That's it!
The Three Stage Rocket is the result of a collaboration with the Danish guitarist and producer, Soren Andersen.
Soren wanted a pedal that delivered the tone he was hearing in his head, but had never truly found in a stompbox. Well, now he has that pedal, and it has his name on it!
The drive is based on our Big Fella overdrive, which gives you an extremely transparent and musical tone that, unlike most other boutique overdrives and distortions, never over-saturates your guitar signal – not even at high gain settings.
The wide TrueOverDrive™ gain range and flexibility makes it perfect for almost any guitar rig. And don't worry – the characteristics of your beloved guitar and amp will shine through beautifully.
---
HEAR FOR YOURSELF
---
THREE STOMPS TO GAIN BLISS
Control the three drive stages on the fly with dedicated foot switches.
Add Drive (right)
Choose OD1 or OD 2 (middle)
Boost (left)
Regardless of whether you go for OD1 or OD2, the Drive foot switch works as a bypass for the entire drive circuit. OD1 gives you a slightly softer and lower amount of gain than OD2, making it perfect for crunchy rhythm playing. And as long as the rocket has been launched (Drive is engaged), you can toggle effortlessly between stage 1 and 2 with the middle foot switch.
Wanna go all the way to the third stage? Simply hit the Boost. A separate +15dB clean boost circuit takes you from guitar hero to guitar god in a single stomp. Add to that the possibility of using the boost circuit for two different purposes. Use it a clean level booster (post mode) to increase the volume whether it's clean or overdriven, or use it as a sustain booster (pre mode), feeding the drive circuit to deliver lead tones that will redefine guitar drive as you know it.
---
REVIEWS

"The dynamic control available and the real cascading amp-like transparency of Steen Grøntved's design is a very genuine and notable feature. What's interesting is that there are plenty of actual tube drive pedals out there to own and buy, and I have tried most of them, and yet to me, LunaStone simply simply seems to have done it better without the aid of any onboard tubes at all."
---
HIGHLIGHTS
MIDI Programmable
Fat and Punchy Overdrive
Sparkly Attack
Independent +15 dB of Clean Boost
Extremely Wide Gain Range
Two Gain Stages w/ Separate Gain Controls
Dedicated OD1/OD2 Foot Switch
User-Definable Overdrive and Boost Order
Truckloads of Sustain
HIgh-Quality Components
True Bypass Switching
9V Power Supply Input
---
SPECS & MANUAL
Dimensions: 188 mm (W) x 120 mm (D) x 37 mm (H) / 7.4″ (W) x 4.2″ (D) x 1.5″ (H)
Weight: 670 g. (23.63 oz)
Neutrik Jack Connectors.
True Bypass Switching.
Adaptor type (not included): Standard 9V DC (center negative) – 160mA
DOWNLOAD THE THREE STAGE ROCKET MANUAL (PDF)
DOWNLOAD THE THREE STAGE ROCKET MIDI ADDENDUM (PDF)
---
GALLERY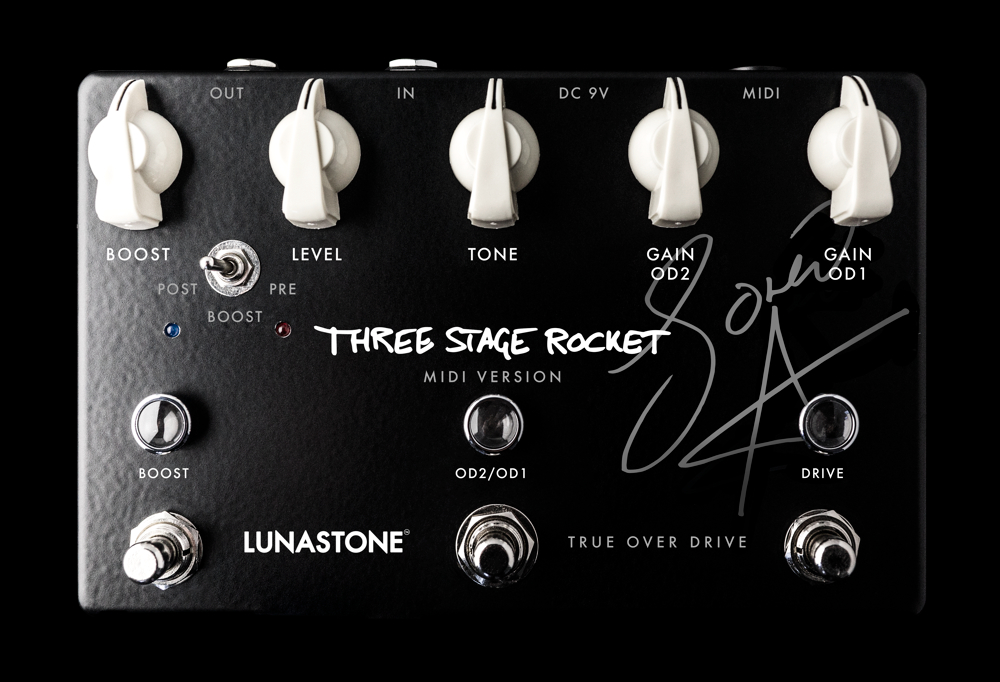 ---
2 Year Warranty
Our pedals rock. And they are rock-solid so we give you 2 years of warranty on your new pedal from the day you buy it. For details, please read the Terms & Conditions.