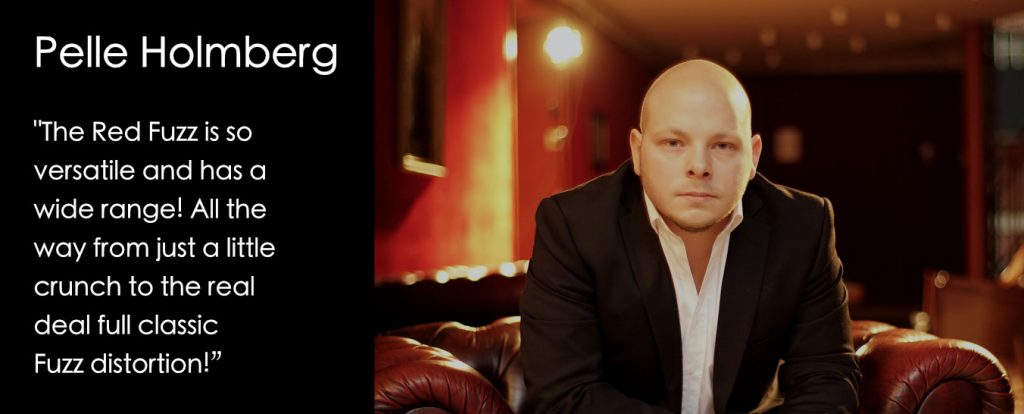 We're proud to welcome Swedish guitar master Pelle Holmberg to our family of artists! Pelle is rooted in the blues traditions, but he also loves to add a modern twist, adding flavours from the worlds of jazz and fusion.
Perhaps that's why Pelle fell in love with our Red Fuzz 1 pedal that just seems like a perfect match, as he manages to utilise its full range from grungy to screaming. Whatever the setting, the two of them just sound great together. This is what Pelle told us after we sent him a prototype of the Red Fuzz 1:
"The Red Fuzz is so versatile and has a wide range! All the way from just a little crunch to the real deal full classic Fuzz distortion!"
Well, check out just how great he sounds with Red Fuzz 1 between his guitar and amp, using various guitars and pickup settings in this video:
About Pelle Holmberg
Pelle Holmberg was born and raised in Karlskrona in southern Sweden and was educated at Malmoe Academy of music and GIT at Musicians Institute in Los Angeles. Today, Pelle lives in a small village near Malmoe.
He is the leader of the instrumental fusion band PHG. Pelle is also a member of the blues band HPD and the Baked Potato Tribute Band 'Two of a Kind'.
During his career, Pelle has worked with many Swedish artists such as Samuel Ljungbladh, Bill Öhrström, Viktoria Tolstoy, Calaisa, Robin Stjernberg, Shirley Clamp, Lagaylia Frazier, Lasse Holm, Nils Landgren, Jan Johansen, Anneli Rydé, Danne Stråhed, Roger Pontare, Jay Smith, Amy Diamond, Lili & Susie, Jojje Wadenius, Hasse Andersson, Linda Bentzing, Magnus Carlsson, Bröderna Rongedahl, Erik Segerstedt, Oscar Zia among others, and he has also played guitar in musicals such as Chess and Little Shop of Horrors.
Pelle has been teaching guitar for many years, and currently, he is teaching at Malmoe Academy of Music and Furuboda Folkhögskola.