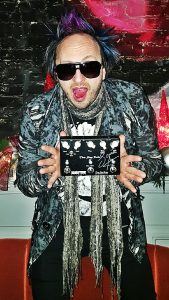 We're proud to welcome Damon Ranger to the LunaStone family of guitar gods! Damon's choice of TrueOverDrive was the Three Stage Rocket. Great choice we might add!
"I have been looking for an overdrive pedal that would make me sound like I am playing through a big Marshall stack very loud and that is exactly what the Three Stage Rocket does. It sounds like ROCK!
And when I'm flying to gigs I just bring my pedalboard – I don't have to worry about what amp I'm gonna play. I run whatever amp clean and then the Three Stage Rocket will give me the overdrive that I'm looking for every night.
LOVE IT!"
– Damon Ranger
Damon is an award-winning musician, songwriter and TV/Radio personality with 6 Emmy Awards for his work in television with CBS under his belt. He has also co-written songs with artists such as WAR, Dee Snider, Kanye West, Rhymefest, and more.
Damon currently plays with Dee Snider and his band Blackbox. He also produced Dee Snider's new album titled "We Are The Ones", and in 2016 Damon's production of "We're Not Gonna Take It" Acoustic (Dee Snider) became the theme for The Grammy Advocacy Fair Play/Fair Pay Act, and the theme song for Criss Angel's HELP (Heal Every Life Possible) Children's Cancer movement.
There are many ways to rock, Damon's is certainly unique!
CHECK OUT THE THREE STAGE ROCKET