Before going on a break for the long term, the live music scene in Denmark was relatively active despite the pandemic. Limited capacity and extra measure to ensure safety made it possible for gigs to happen in some venues. Local bands got a stage let loose on providing listeners with a chance to see the magic from the front row.
In the middle of December, another lockdown fell upon most countries. This included Denmark, and the small but well-oiled live music machine had to cease operation for a while.
Vladimir Gospodinov covered one of the very last shows we saw before that happened. The show was a demonstration of old-school death metal with modern twists performed by Wayward Dawn and Bloodgutter. Here is a quick look in case you miss the thrill of live music.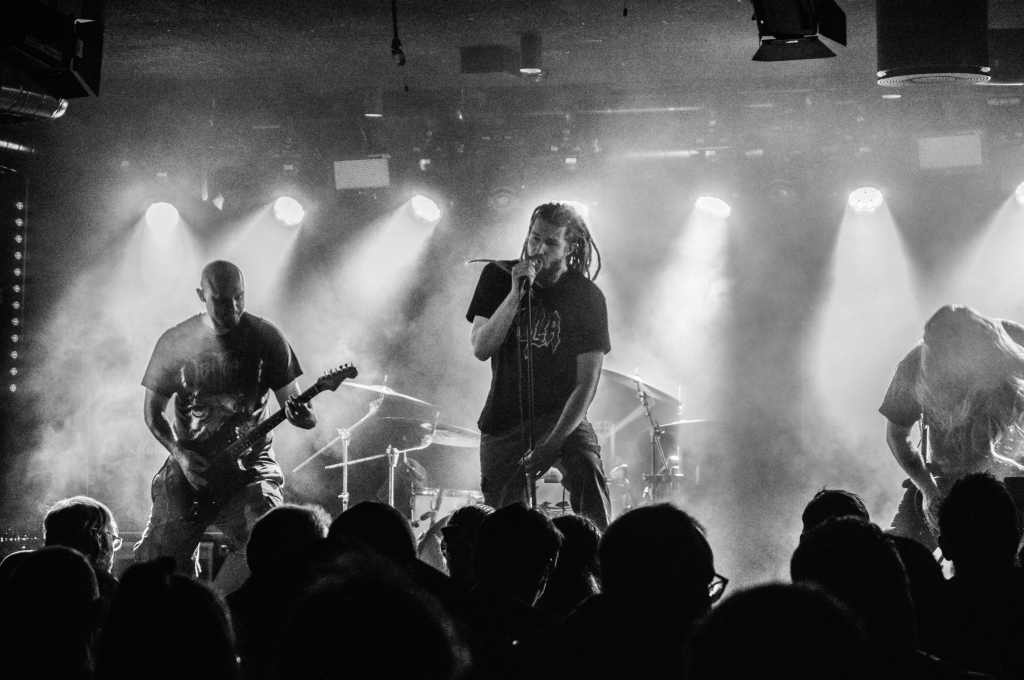 Bloodgutter captured by Miglė Černevičiūtė
Both Bloodgutter and Wayward Dawn made up for one memorable night of shredding instrumentals, gruesome vocals, and energy outbreak. Bloodgutter warmed up the place well with a warning of what the event was all about. Thundering instrumentals with rapid-fire tempo and powerful vocals hyped the crowd up and marked the start of a worthwhile death metal night.
Typically for the venue that hosted the performance (Beta2300), the limitations in regards to the virus didn't stop the crowd from having a blast. The energy was outstanding and it only kept getting stronger and stronger with the progress of the show.
Wayward Dawn took over the stage with a bang – a progressive start of crisp instrumentals followed by anthem-like growls. Rasmus Johansen and Kasper Petersen wielded the guitar and bass respectively while simultaneously delivering impressively long growls and powerful vocals. This is quite an achievement in itself, but guitarist Jacob Kristensen and drummer Lukas Nysted didn't fall behind with vicious solo parts taking the spotlight occasionally.
The band brought the monstrous soundscape and violent rhythms from their discography to life. The audience also got a taste of some upcoming material helping elevate the already ecstatic atmosphere even more. Aggressive fast-paced tracks shifted with slow, crushing pieces to ensure diversity and show the versatility of the band.
With melodic build-ups, sudden changes of pace and tempo, and synchronized instrumentals Wayward Dawn dominated the Beta2300 stage effectively. They delivered a high-class death metal demonstration constructing a world of nihilistic human and societal decay for the audience. The energy was overflowing and excitement was hard to conceal – the band shredded in unison and the crowd took part of the performance actively.