GAIN-WISE THIS GUY ROCKS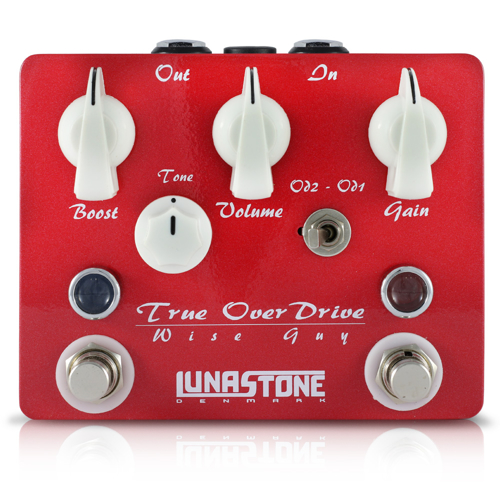 The Wise Guy is our classic overdrive pedal that gives you a cutting, mid-focused crunch, coupled with the transparency and sweet responsiveness you would expect from a great vintage amp.
This pedal delivers unrivaled sustain and cleans up nicely when you back off on your guitar's volume knob.
Unlike most other overdrives and distortions, the Wise Guy achieves its incredible warm, tube-like overdrive purely from cascading gain stages much like in a real tube amp, giving you a musical tone that truly inspires the creation of great music.
Further, the Wise Guy lets you kick in an independent level booster, adding up to 15 dB, which helps drive your tube amp into saturation and to cut through the band mix on the stage.
---
HEAR FOR YOURSELF
---
FROM SUBTLE RHYTHM CRUNCH TO SUPERB LEAD GAIN
With two drives you have a vast gain range right at your feet. Use OD1 and a gentle gain setting for subtle yet crunchy tone perfect for rhythm parts and bluesy riffs. Flick the toggle switch to OD2 when you need more gain and sustain for your latest licks and tricks.
You also get a dedicated tone control to tailor the high frequencies to perfection, and True Bypass switching makes sure your tone is passed on as purely as possible when the Wise Guy is bypassed.
---
REVIEWS
"Essentially, the Wise Guy's circuitry more accurately mimics the circuitry of a real tube amp. The result: an extremely tube-like overdrive, complete with fantastic breakup, rich harmonics, and signature equalization. Most people will never know the difference between the tone of a Wise Guy and a tube amp."
"The dynamic control available and the real cascading amp-like transparency of Steen Grøntved's design is a very genuine and notable feature.What's interesting is that there are plenty of actual tube drive pedals out there to own and buy, and I have tried most of them, and yet to me, LunaStone simply simply seems to have done it better without the aid of any onboard tubes at all."
"From Stevie Ray Vaughan to Gary Moore, you are right there, and the pedal doesn't even need a tweaked amp to create an authentic and tube-like drive. Whether with subtle or extreme settings, the sound is very well balanced. This is the ideal all-round drive pedal for tone connoisseurs and sound fetishists.

PROS: Balanced distortion structure, Perfect processing, Super versatile. CONS: None!"
---
HIGHLIGHTS
Independent +15 dB level boost
Warm touch-sensitive, natural tube-like overdrive
A wide gain range – from soft rhythm crunch to soaring leads
Truckloads of Sustain
High Quality Components
True Bypass Switching
Top-Mounted Jacks and DC-plug Save Space on Your Pedal Board
---
SPECS & MANUAL
Dimensions: 119 mm (W) x 93.5 mm (D) x 34 mm (H) / 4.7″ (W) x 3.7″ (D) x 1.3″ (H)
Weight: 358 g. (13 oz) (w/o battery)
Neutrik Jack Connectors.
True Bypass Switching.
Battery type: 9V
Adaptor type (not included): Standard 9V DC (center negative)
DOWNLOAD THE WISE GUY MANUAL (PDF)
---
GALLERY
[huge_it_gallery id="4″]
DOWNLOAD WISE GUY HI-RES IMAGES (ZIP)
---
2 Year Warranty
Our pedals rock. And they are rock-solid so we give you 2 years of warranty on your new pedal from the day you buy it. For details, please read the Terms & Conditions.